FabLab launches F-16 and SR -71 soldering kits!
Inspire children to grow their interest in science and techniques. Nobody will deny that today this is an important topic in education, where a broad development is getting more and more important. And 'to catch them young' is obviously applicable here. When children get acquainted with techniques already at an early age, this will naturally become part of their social environment.
FabLab Leuven realizes the importance of introducing techniques to children and has therefore, existence in cooperation with Hackerspace Area 3001, a hobby club of mainly IT and electronic 'freaks', started a project with the aim to make techniques 'hot and happening'. And why not use airplanes for that purpose?
FabLab aims to reach children as from 8 years old and offers soldering kits to schools, camps, etc. for the democratic price of 3,00 EUR per kit. They can then solder either the legendary F-16 or the espionage airplane SR-71. This collection will be expanded with soldering kits for the Mig-29 and the A-10 airplanes.
The kits itself are very user-friendly and quite easy to solder, but also sufficiently captures the imagination in order to keep the interest of young technicians. It will never get boring!
If all goes as planned, after the soldering session the children can bring the following result to their homes: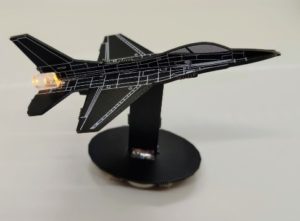 Let's be honest, there are worse things to bring home after a technique session right ??
Although the current kits will in most cases be more appealing to boys than to girls, FabLab plans to develop more 'women-friendly' kits as well.
The kits for schools and camps ca, be obtained through FabLab. In case you would like to purchase them as a private person, you can order them through following website: https://www.tindie.com/stores/phyx/.
Currently approximately 300 pieces of both the F-16 and SR-71 have been produced; the plan is to multiply that number by ten. Organizers of the youth hacker 'Fri3d Camp' have already performed tests with these kits and the youngsters were all very enthusiastic.
However, since deeds are still more important than words, go find out and judge yourself by clicking following link: https://www.youtube.com/channel/UCuqKKi5rRXkxcogEct8ijgQ
Author:

Translated by José de Krosse