This machine can cut materials with a laser very precisely. It measures approx. 1 meter broad, 1 meter high and 80cm deep.
The laser cutter can cut wooden plates, cardboard or plexi glass.
It cuts so precise that 2D parts can be assembled with a perfect fit, i.e. without using glue or screws.
With this machine you can also engrave e.g. photos, logos, etc. on all kinds of materials (mirrors, wood, plexi, …).
The maximum thickness of materials that can be cut is 9mm and the largest plate that fits in the machine is 60x30 cm.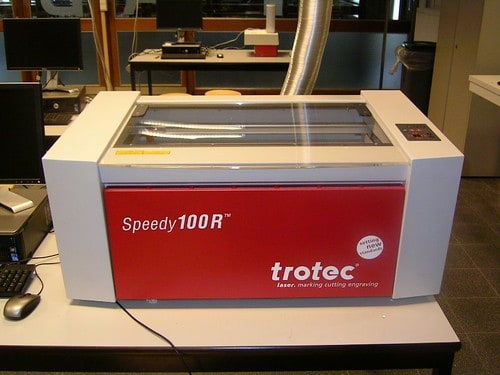 For the laser cutter you need files that have been created in a 2D or 3D drawing program. For the lines you want to have cut, you take the thinnest possible red line (RGB: R=255) of your software program.
Each drawing program can create a .pdf and that's all you need. We recommend Inkscape, as this is for free and accessible for everyone. It matches the commercial packages such as Illustrator and Coreldraw. Inkscape works what they call "vectorial" and this is necessary to be able to cut with the laser machine. The laser cutter needs these 'vector' lines to be able to cut. Normally, if you use a drawing program, it is automatically generated this way, so no need to worry about that.
Only if you make your drawing e.g. in Photoshop or GIMP, you'll have to watch out. These drawings can only be engraved and not cut!!
The laser cutter has 3 settings: engraving, cutting and 'fast-cutting' (= thin cutting line which does not cut through the material). In order to be able to use these three, you need to use the correct settings in your drawing program.
A link to a basic tutorial (and other tutorials) or Inkscape, you can find here. For tutorials in Dutch we refer to our own tutorials on the key chain and clock.
What can be cut and engraved?
In the price list you can see what materials we sell.
Of course, you're not obliged to use FabLab materials. You can alsobring your own materials. Please, make sure that you know what kind of material you bring, otherwise it will not be allowed in the machines!! Some materials can release toxic damps when being laser cut. E.g. PVC cannot be cut in the laser cutter, as chlorine gas can evaporate. As for now ONLY paper, cardboard, MDF and PMMA (plexi acryl) can be used in the laser cutter.
At FabLab Leuven we have 6 laser cutters, wit which we can cut materials with a maximum thickness of 9mm. For the materials that we sell ourselves, we know the settings. When you bring your own material, try to bring some extra for us in order to be able to test the settings.
While using the laser cutter, you remain at the machine all the time. Otherwise we will stop the machine and your turn will go to the next person waiting.