FabLab Leuven is "open source hardware" for students and personnel of the Association KU Leuven, Imec and Flanders Make, i.e.: a library with user friendly machines to make almost anything with wood or plastic.
For students and personnel of the Association KU Leuven, Imec and Flanders Make.
attention: RESERVATION POSSIBILITY for personnel: make your reservation here.
Always take your personal student or personnel card of Association KU Leuven, Imec or Flanders Make with you and report to us before using the machines. We allow maximum 25 persons in our largest FabLab room.
Are you personnel, you can still make your reservation here.
Furthermore you show that you respect our FabLab and the other users by always cleaning up your material when you have finished.
You are only allowed to use one machine per project / person (i.e. if you are making invitiations or tokens for scouts, you can only use one laser cutter). This in respect for the people waiting to use the laser cutter as well.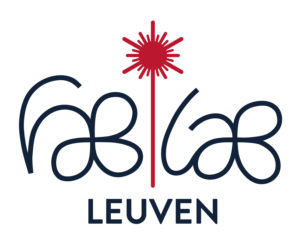 | | |
| --- | --- |
| Monday | 8:45 - 17:45 |
| Tuesday | 8:45 - 17:45 |
| Wednesday | 9:15 - 17:45 |
| Thursday | 8:45 - 17:45 |
| Friday | 8:45 - 17:45 |
| Saturday | Closed |
| Sunday | Closed |
We zijn gesloten. Opnieuw open op Monday om 8:45u
---
Next data we're closed or have different opening hours:
| | |
| --- | --- |
| 10 Apr | 8:45 - 17:45 |
| 1 May | 8:45 - 17:45 |
| 18 May | 8:45 - 17:45 |
| 29 May | 8:45 - 17:45 |
| 15 Aug | 8:45 - 17:45 |
| 4 Sept | 8:45 - 17:45 |
| | |
| --- | --- |
| 3 Jul - 14 Jul | Closed |
| 21 Aug - 25 Aug | Closed |
| 1 Nov - 3 Nov | Closed |
| 25 Dec - 29 Dec | Closed |
Do you have an idea? Would you like to realize it? Are you looking for a place where you can make your first prototype in order to convince possible customers? Just come to FabLab Leuven…
Inspire children to grow their interest in science and techniques. Nobody will deny that today this is an important topic in education, where a broad development is getting more and more important. And 'to catch them young' is obviously applicable here. When children get acquainted with techniques already at an early age, this will naturally become part of their social environment.
FabLab Leuven realizes the importance of introducing techniques to children and has therefore, existence in cooperation with Hackerspace Area 3001, a hobby club of mainly IT and electronic 'freaks', started a project with the aim to make techniques 'hot and happening'. And why not use airplanes for that purpose?
FabLab aims to reach children as from 8 years old and offers soldering kits to schools, camps, etc. for the democratic price of 3,00 EUR per kit. They can then solder either the legendary F-16 or the espionage airplane SR-71. This collection will be expanded with soldering kits for the Mig-29 and the A-10 airplanes.
The kits itself are very user-friendly and quite easy to solder, but also sufficiently captures the imagination in order to keep the interest of young technicians. It will never get boring!
If all goes as planned, after the soldering session the children can bring the following result to their homes: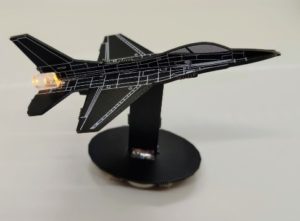 Let's be honest, there are worse things to bring home after a technique session right ??
Although the current kits will in most cases be more appealing to boys than to girls, FabLab plans to develop more 'women-friendly' kits as well.
The kits for schools and camps ca, be obtained through FabLab. In case you would like to purchase them as a private person, you can order them through following website: https://www.tindie.com/stores/phyx/.
Currently approximately 300 pieces of both the F-16 and SR-71 have been produced; the plan is to multiply that number by ten. Organizers of the youth hacker 'Fri3d Camp' have already performed tests with these kits and the youngsters were all very enthusiastic.
However, since deeds are still more important than words, go find out and judge yourself by clicking following link: https://www.youtube.com/channel/UCuqKKi5rRXkxcogEct8ijgQ
Author:

Translated by José de Krosse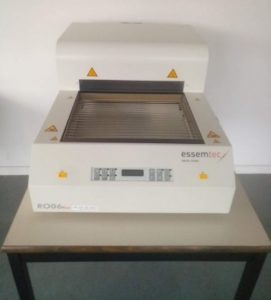 Since a few weeks FabLab Leuven has a new soldering oven. This is good news for electronics and mechanics students and researchers among others. They will now be able to solder the  ever-smaller electronics themselves without having to invest in expensive and large infrastructure.
In this oven one complete printboard with SMD components can be soldered in one time instead of having to solder each joint manually. This means an enormous gain in time and therefore more possibilities to experiment with self-designed electronics.
The user-friendly soldering oven, worth 12,000 EUR, was donated by Rogers Corporation in Evergem, a company, which is specialized in the studies, design and production of high-tech materials. The oven is as good as new, so we expect that FabLab users will be able to use it for a long period of time from now on !
A sincere thanks to Rogers Corporation. Due to this generous gift hopefully more students and researchers will find their way to FabLab Leuven.
Author:

Translated by José de Krosse
If you want to come to FabLab Leuven, then reservation is always obliged !
Before you can come by, you need to reserve our machines through our reservation tool.
See also: How to register my account ?
Pay attention – if you make a reservation, you reserve for 1 person per machine and only for using the machine (so, not for meetings in FabLab with colleagues, not for designing purposes – this all you need to do on beforehand and not in the FabLab).
For 3D prints you send the files to fablableuven@kuleuven.be and we'll inform you when they are ready. You'll get a confirmation from us when you can come to pick up your print. You then always wear a face mask (face mask is obliged on all KU Leuven campuses)
How to pay:
– Budget number / order number for materials
– Payconiq/bankcontact app
NO assembling of designs in the FabLab.
NO coming in without having received a time slot. Hand hygiene and mouth mask are obliged when entering.
Open hours are from 9 – 17:30.