FabLab Leuven is "open source hardware" for students and personnel of the Association KU Leuven, Imec and Flanders Make, i.e.: a library with user friendly machines to make almost anything with wood or plastic.
For students and personnel of the Association KU Leuven, Imec and Flanders Make.
attention: RESERVATION POSSIBILITY for personnel: make your reservation here.
Always take your personal student or personnel card of Association KU Leuven, Imec or Flanders Make with you and report to us before using the machines. We allow maximum 25 persons in our largest FabLab room.
Are you personnel, you can still make your reservation here.
Furthermore you show that you respect our FabLab and the other users by always cleaning up your material when you have finished.
You are only allowed to use one machine per project / person (i.e. if you are making invitiations or tokens for scouts, you can only use one laser cutter). This in respect for the people waiting to use the laser cutter as well.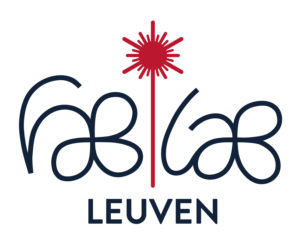 | | |
| --- | --- |
| Monday | 8:45 - 17:45 |
| Tuesday | 8:45 - 17:45 |
| Wednesday | 9:00 - 17:45 |
| Thursday | 8:45 - 17:45 |
| Friday | 8:45 - 17:45 |
| Saturday | Closed |
| Sunday | Closed |
We zijn gesloten. Opnieuw open op Monday om 8:45u
---
Next data we're closed or have different opening hours:
| | |
| --- | --- |
| 25 Oct - 25 Oct | Closed |
| 1 Nov - 3 Nov | Closed |
| 25 Dec - 29 Dec | Closed |
Do you have an idea? Would you like to realize it? Are you looking for a place where you can make your first prototype in order to convince possible customers? Just come to FabLab Leuven…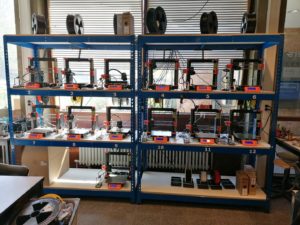 Since February 2021 a 3D printing farm has been installed in FabLab. A whát, you might think. The concept 'farm' may not immediately remind you of a fine piece of technology. Yet, this is exactly what it is. In a 3D printing farm the focus is on the optimal implementation of the printers' capacity, in other words: striving for a maximization of the output and this by using software that can manage the printers. The manager of the FabLab, Marc Lambaerts, was inspired by the Czech company Prusa, one of the leading companies specialized in 3D printing. Currently, Prusa has more than 1000 printers operational according to the principle of the 3D printing farm. Marc contacted
Flanders Make
, that provided him with the tools to be able to develop such a farm. These tools came in the form of free software, being two apps, named
RaiseCloud
and
Octoprint
. This combination makes it possible to manage printers from a distance. Through the apps the employees of FabLab get access to the printing farm and can clearly see which printers are active, in stand-bye, show an error code, …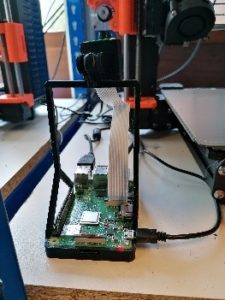 Through the apps you get a live overview of the different printers and the projects that are being printed at that very moment. A camera, which is installed on the Raspberry Pi of the printer, always makes sure that there can be a live connection with the printer in case visual control is needed. As a last feature Lowie Goossens wrote a plug-in for Octoprint which ensures a label is being printed once the print has finished – the label mentions the print's name. This way all steps in the process are easy to follow. There are numerous advantages of a 3D printing farm. First,  such a farm can be managed from a distance; the employees of FabLab Leuven do not need to be present in the lab itself. The printers can also run during nights and weekends, which is a huge advantage – certainly for bigger projects – and leads to extra output. The extra capacity that can be realized is also an important advantage and is being improved by the fact that the print now only needs to be labeled and taken off the print plate. This takes approximately one minute whereas in the past it took around 15 minutes per print. Therefore, this results in an enormous time gain. Also the risk of mistakes is limited, as the labels are automatically printed once the project has finished. Since last February FabLab Leuven has realized about 1300 prints through this set-up. In pre-farm era this number could only have been around 300! The velocity with which the projects can be realized, is something that we shouldn't forget: students can now assume that their project will be finished in about 24 hours, max 48 hours. If you compare this to the 7 days they had to take into account in the past, then it's clear that the 3D printing farm offers nothing but advantages. Also, the start-up of a project has become more accessible: the student sends the file per mail and the file is being uploaded to the 3D farm. It's no longer necessary to come to the FabLab with a SD card or flash drive; all you need to start a print is a simple mail. With this 3D printing farm FabLab Leuven demonstrates that it keeps renewing and strives to be an environment where creativity is a high priority, without overlooking the production capacity.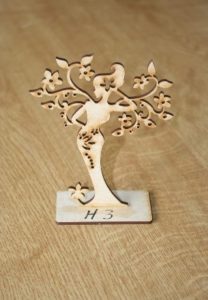 I think that I may have met the biggest fan of our FabLab. We didn't meet personally – as due to Corona measures you cannot just pass by at FabLab Leuven – but I spoke to François Janssens on the phone, as a result of the various projects he has realized for FabLab Leuven.
For three years François has been coming to FabLab Leuven every Thursday morning where he can deploy his creative soul to the fullest. His first visit was merely by chance: his daughter was a frequent visitor to our lab, but when she couldn't go due to circumstances, he went there in her place. Immediately he was impressed by the diversity of the machines and the guidance and goodwill of the employees.
Our FabLab is so much more to François than just a hobby: he can almost never let go of FabLab. On Fridays and Saturdays he assembles his creations. The rest of the week is reserved for developing new projects.
Some of these projects he develops on request of FabLab Leuven, but most projects arise from his own creative mind. A lot of his own projects are directed to designing educational material for schools and children's hospitals. The gratitude he gets from the children is huge and of course that's an important incentive for him to continue designing such projects.
Smilingly François says: 'Show me anything and I'll make a better design than the original'.
And indeed, the things he has created attest to great expertise and an impressive eye for detail. He posts his creations on his Facebook page, which by the way is completely dedicated to FabLab…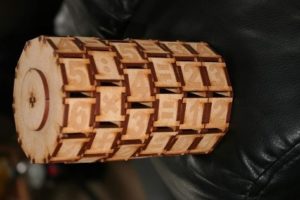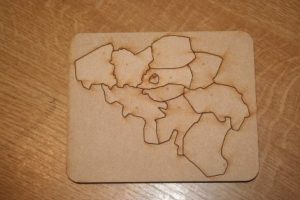 For example he created rolls in order to teach children to calculate, especially designed for the children in the hospitals of Herentals and Bonheiden. Or you can see 2D puzzles to help children learn the Belgian provinces in a nice way.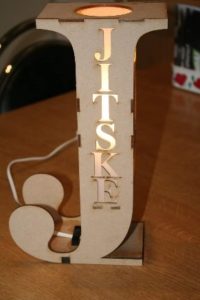 His jewel holders for a Mother's Day workshop at schools are very decorative and the night lights are really wanted by the children of, e.g. the FabLab employees ?.
FabLab Leuven gives François structure and taste for life, you could call it a kind of therapy. And that is in fact also a function our FabLab wants to fulfill, besides guiding students and entrepreneurs in their creative projects. To be a place for everyone with a heart for creativity and technique.
Every Thursday a special spot is reserved for François, our favorite voluntary employee.

Inspire children to grow their interest in science and techniques. Nobody will deny that today this is an important topic in education, where a broad development is getting more and more important. And 'to catch them young' is obviously applicable here. When children get acquainted with techniques already at an early age, this will naturally become part of their social environment.
FabLab Leuven realizes the importance of introducing techniques to children and has therefore, existence in cooperation with Hackerspace Area 3001, a hobby club of mainly IT and electronic 'freaks', started a project with the aim to make techniques 'hot and happening'. And why not use airplanes for that purpose?
FabLab aims to reach children as from 8 years old and offers soldering kits to schools, camps, etc. for the democratic price of 3,00 EUR per kit. They can then solder either the legendary F-16 or the espionage airplane SR-71. This collection will be expanded with soldering kits for the Mig-29 and the A-10 airplanes.
The kits itself are very user-friendly and quite easy to solder, but also sufficiently captures the imagination in order to keep the interest of young technicians. It will never get boring!
If all goes as planned, after the soldering session the children can bring the following result to their homes: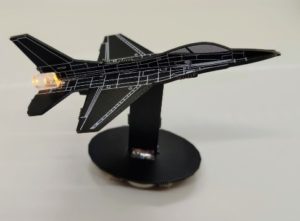 Let's be honest, there are worse things to bring home after a technique session right ??
Although the current kits will in most cases be more appealing to boys than to girls, FabLab plans to develop more 'women-friendly' kits as well.
The kits for schools and camps ca, be obtained through FabLab. In case you would like to purchase them as a private person, you can order them through following website: https://www.tindie.com/stores/phyx/.
Currently approximately 300 pieces of both the F-16 and SR-71 have been produced; the plan is to multiply that number by ten. Organizers of the youth hacker 'Fri3d Camp' have already performed tests with these kits and the youngsters were all very enthusiastic.
However, since deeds are still more important than words, go find out and judge yourself by clicking following link: https://www.youtube.com/channel/UCuqKKi5rRXkxcogEct8ijgQ
Author:

Translated by José de Krosse